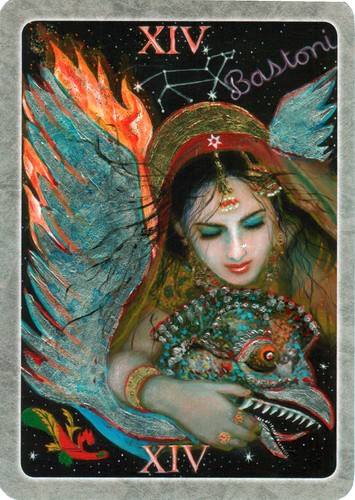 Goddess of Wands
Today is a good day to put your best foot forward and show the rest of the world what you're made of, courtesy of the Queen (or Goddess) of Wands.
The Queen of Wands in this version is a Hindu Goddess set before the night sky and a field of tiny stars. She is clothed in royal garb with a decorative headdress, lavish robes and intricate jewels.
Even though she appears to be calm and gentle, there's electricity in the air around her and flames emanating from her luminous wings. She gazes down upon her totem animal — the mythological Sharabha — with honor and respect.
Directly above her is the Leo constellation, with the fixed stars Denebola and Regulus most prominent. These stars refer to harsh judgment and disgrace (Denebola) and fame and hour (Regulus).
The firm grasp she has on the Sharabha tells us that she strives to contain these powerful energies rather than fear or resist them.
This Goddess is sometimes a force to be reckoned with. She's noble and strong but her warm demeanor can sometimes disguise a more aggressive and controlling manner.