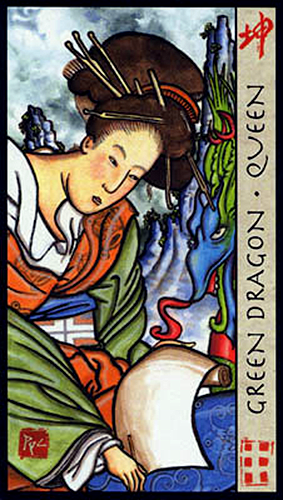 Green Dragon Queen
Today you're going to want to go over your finances and figure out ways to maximize your earning potential.
The Queen of Pentacles is traditionally portrayed as a wise, practical woman with keen business sense and a no-nonsense approach to life. And this version of the card — the Green Dragon Queen from the gorgeous Feng Shui Tarot — is no different.
Here we see the Queen in deep concentration as she studies under the stern gaze of baleful green dragon standing at her side. She may be checking her facts and figures, or she could be preparing to make changes with the pen she holds in her hand.
The Green Dragon Queen encourages you to think about how you're handling your business and financial affairs and to figure out ways you can make improvements.
You may need to cut corners in order to save for a rainy day (note the storm clouds forming above), or you could be doing something more proactive like looking into long-term investments (note the tall steep mountains that loom overhead).
The Green Dragon Queen is practical and diligent. She stays focused on the task at hand, unmoved by the beauty that surrounds her. She sometimes needs to be reminded to step back and appreciate all she's achieved rather than focusing so much on achieving it.
As with all the Court Cards in the tarot, this may be you and it may represent someone in your life. It can also indicate a state of mind that is necessary for you to adopt. Whatever (or whomever) she represents, know that it's time to get serious about the practical matters in your life. While this is most likely tied to your financial situation, it can also apply to other mundane areas.
Take some time today to think about "business." How you deal with security and what steps you've made toward planning for your future. The Green Dragon Queen says it's time think about preservation — for yourself and for those who matter most.