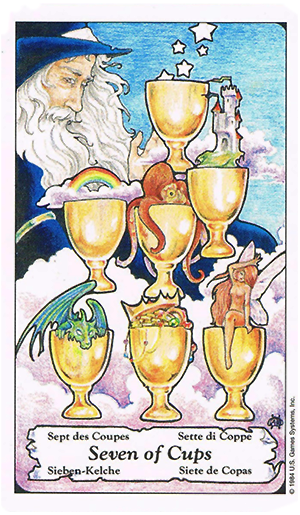 Seven of Cups
Today's Mercury / Neptune square may see you feeling torn by competing interests and pulled in different directions — either away from the things you really want to do, or towards the kind of mindless diversions that cause you lose sight of your priorities.
The Seven of Cups — this version from the Hanson-Roberts Tarot — is a card of temptations, often fueled by irrational thoughts or fantasies. There can be too many options available, which makes it hard to decide. But it's often a case of wishful thinking and foolish day-dreaming that can interfere with actual progress.
The wizard in this card gazes down at Seven goblets, each more tempting than the last. There's an octopus, rainbow, dragon, castle, fairy, jeweled crown and a cup full of stars. These are tied to the Seven deadly sins and in fact this card is called "Debauchery" in some decks, referring to the superficial appeal of things that most of us only think will make us happy.
This is the dilemma with the Seven of Cups. What you long for looks so appealing while what you have appears so drab. But it's just an illusion and even if it weren't — even if it were perfectly attainable — it's not going to come about by sitting around daydreaming about it.
There are elements of seduction also inherent in this card. Being seduced by something intangible or just out of reach, or being lured in by a fantasy that falls short in the harsh light of day. Notice the wizard's almost hypnotic gaze toward all of the trappings of fame, glory, power, wealth and acclaim, which are just hollow victories in the end.
While you may think that the grass is greener on the other side of the fence, chances are good that when you got there you'd want nothing more than to return back home. The message behind this card is to aim for reachable goals and to participate in attaining them rather than allowing yourself to fall into the trap of wishful thinking.