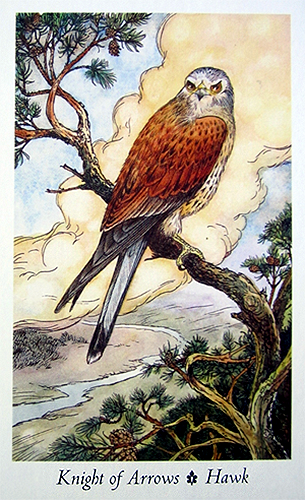 Hawk
The Sun conjuncts Mercury today (in Aries) — bringing with it the impetus to deliver messages swiftly and with conviction.
You have something to say? now is the time to say it! The Hawk (Knight of Arrows) — Wildwood Tarot's version of the Knight of Swords — is a messenger bird, said to be the conduit between Sky and Land. It glides swiftly over mountaintops and swoops down deftly over land and sea to capture its prey.
As an animal totem the Hawk is known as the messenger to the Spirit World. It represents focus, vision, dexterity and acumen. It soars to great heights and dives to great depths. It hovers, watches and analyzes before going in for the kill.
You may have an important decision to make today and an equally important message to deliver. You may be preparing for a presentation of searching for just the right words.
You're probably not going to feel too much like dilly-dallying. The Sun / Mercury in Aries is much more inclined to "spit it out" than chew it over.
But keep in mind that this conjunction is also what's known as "combust" — referring to the phenomenon of the Sun's bright light obscuring Mercury from view. This can manifest as increased frustration and agitation, especially where communications are concerned.
Much like the Knight of Swords, there's a sense of impatience or urgency to make things happen and because of this you want to remember to temper your communications today with tact and diplomacy. While you will undoubtedly have much to say, you'll much better results — and much more cooperation — if you say it with courtesy and sincerity.