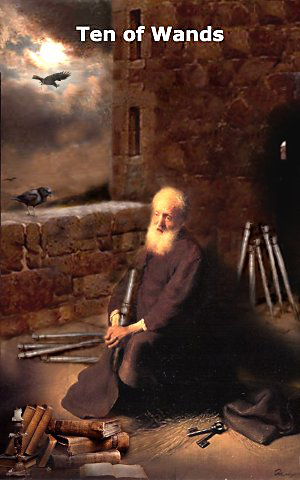 Ten of Wands
You may feel like you've taken on too many responsibilities and have overextended yourself to the point of exhaustion.
The Ten of Wands — this version from the beautiful Infinite Visions Tarot —  refers to being overburdened and overtaxed; feeling overwhelmed by the work ahead of you and seeing no real end in sight.
Here we see an old man kneeling down amidst a pile of books that represent all the work he has to do. He doesn't know where to begin.
The Wands stacked around him represent more responsibilities – more piles of work — including the one he holds in his hand.
The keys lying next to him may represent the solution to his dilemma but he's so focused on the mountain of work that surrounds him he doesn't even notice them.
Nor does he pay attention to the bird squawking at him from the ledge — perhaps here to deliver an important message that gets drowned out by all the worries taking up space in his head.
The Ten of Wands refers to a situation that's so overwhelming and exhausting that you're left feeling completely spent.
But notice the Sun peering through the storm clouds in the distance. It's an indication there there is a silver lining to your situation and that it doesn't have to be that hard. Although this transit (and this card) may have you feeling like you're doing all the work and reaping none of the benefits, they're both character building archetypes that ultimately promote growth.
You may feel like you're alone in the world or that you're not getting any outside support — which is especially true right now with today's Sun / Saturn square. But it's important to note that there are solutions to your dilemmas (the "keys" to your problems) and outside messages that can lighten the load.