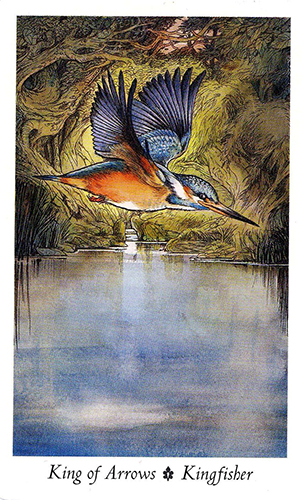 Kingfisher
Mercury goes direct today in the earliest degrees of Aquarius. This is the sign associated with lighting-fast insights and discernment. It's capable of rising above and looking at things from an impartial and objective perspective, much like the King of Swords.
This is the Wildwood Tarot's version of that card — called the King of Arrows in this deck. Here we see him soaring high above a crystal clear body of water, its surface so pristine it looks like a mirror.
This is in keeping with the King of Arrows' / Kingfisher's penchant for clarity and altitude, as well as the searing precision that's needed to go after his prey.
He flies high enough to get a clear overview of all the fish beneath the surface, and when he finds what he's looking for he nose dives after it, plucking it from the depths with barely a ripple left in his wake.
The King of Swords is traditionally a rather stoic individual. He's intelligent, articulate, moral, fair and just. He doesn't mince words and he doesn't suffer any fools. He has honor, integrity and principles, all of which he's unlikely to yield.
If this is someone in your life (boss, mentor, parent, etc.) you'd do well to heed his advice. He may just offer you a perspective that you hadn't considered.
But it can also indicate qualities you need to embrace. What is it about the Kingfisher that you could incorporate into your decision making options today? What about clarity, precision and altitude? What about flying high, getting an overview and looking at things from a different perspective?
With Mercury turning direct today it's time to start being decisive and thinking ahead. It's time to clear away the debris and work on attaining better focus. And it's time to take a leaf from the Kingfisher's book and rising above it all.