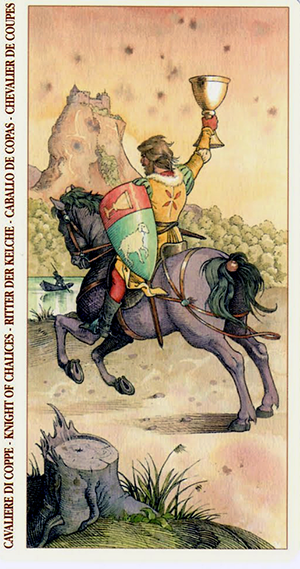 Knight of Chalices
Today you may encounter someone who inspires you to open up your heart and express your true feelings without fear or censure.
This could be an individual in your life (male or female) or it could describe qualities that you yourself need to develop. Qualities like love, affection, romance, and emotional expression.
The Knight of Chalices (Cups in most decks), while not exactly the proverbial Knight in Shining Armor, does have a certain romantic sweep-you-off-your-feet vibe. He's ardent and passionate with a lot to say and a colorful way of saying it.
He may be "in love with love," in which case he's apt to be better at the hearts and flowers aspects of romance than he is at the nitty gritty.
Notice that this Knight is charging off on some unknown adventure with his chalice raised high in the air. He's likely following his heart — and will go to the ends of the earth to find what he's looking for.
There is a bit of a dramatic flair associated with this Knight. He can be chivalrous and gallant when he needs to be. Or when the mood calls for a softer approach he can be sensitive, caring and kind.
If this is someone in your life, you will know him by his charm, sensitivity, and emotional availability. He wears his heart on his sleeve and has no problem expressing feelings. He may reach out across the miles or send messages of love and affection from afar.