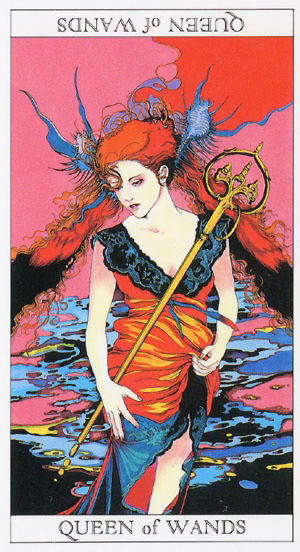 Queen of Wands
If you've been hiding in the shadows or downplaying some of the more expressive or dramatic aspects of your personality in recent days, now is the time to step up and be seen.
The Queen of Wands is not someone who goes unnoticed. Especially this Queen of Wands — from the gorgeous Love and Mystery Tarot. She's bold, creative and colorful, with a keen sense of fashion and a flair for drama.
She may be someone in your life, an event or a part of yourself. She may be a supervisor, a parent, a friend or even some facet of yourself that has long been dormant. She has a lot of fiery Goddess energy and can teach you a thing or two about leading with your heart.
She embodies the feminine or yin aspects of Fire (wands) energy: warmth, enthusiasm, energy and drive. She's regal and majestic; dynamic and refined; confident and authoritative.
She's creative, expressive and passionate. She possesses strong leadership qualities and elicits respect from others. She's also very worldly and knowledgeable.
If she's someone in your life, know that she's here to introduce you to the qualities she represents.
If however this card refers to you, see it as a reminder that you do possess these qualities and may need to re-incorporate them into your personality. You may be called upon to act in a leadership role or to channel your creative energy into a project of your own.
The Queen of Wands represents feminine strength and power. She's bold, confident and courageous, and knows how to make things happen in a big way. The presence of this card today encourages you to recapture the essence of the Queen of Wands and to put her to good use.