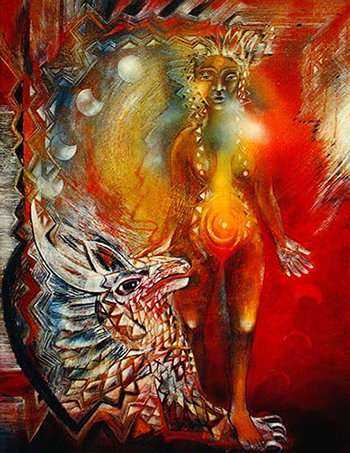 Strength
What is it about today that has you knowing that if you take your own strength back you can accomplish anything?
You may have lately been feeling that anything you did was not good enough and the only place you could go was deep inside yourself to draw on inner reserves.
Sometimes we are our own worst critics and other times others are our worst critics but is any of the criticism truly worth it and do you have to accept the criticism from yourself and/or others as the truth.
This image shows that there is strength deep inside you simply bursting to come out and when it does it will feel as if you have shed a skin and are someone else.
I'm not saying it will be an easy transformation to pull off and it may take some time as can be seen in the cycles of the moon on the upper left side of the image.
However, when you do shed what has been holding you back and see things for what they really are you will simply "shine".
Nothing and no one will stand in your way. There is a predominance of red in this card which denote action. You will not get to where you wish to be by simply sitting back hoping and wishing you need to take some decisive action and put yourself first.
Today is not a day to be wishy washy in what you want or what you hope to accomplish. Today is more a day of seeing what you want, going for it and knowing you are onto a winner.