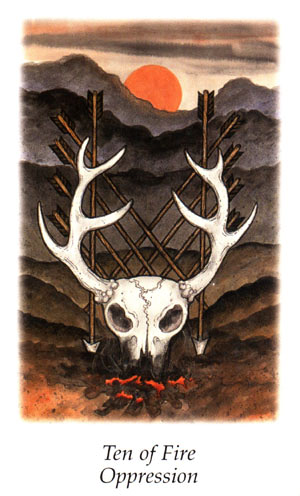 Oppression
Today's Saturn / Jupiter square may force you to look at where you've been beating a dead horse in certain areas of your life.
You may be questioning whether something is worth putting more effort and energy into — such as a job, a relationship, or a business venture that's not paying off. — or whether it's time to throw in the towel.
The Oppression card —  Vision Quest Tarot's version of the Ten of Wands — answers this question in a multitude of ways.
The Sun is setting, the embers are dying down and the dear's carcass has been picked clean. Even the Ten Wands (arrows in this card) are lined up and crossing one another in a ceremonial formation, signifying defeat.
The Jupiter / Saturn square can put a damper on your plans but if so you can bet they weren't as well-laid as you thought. The Jupiter portion of this configuration may have relied too much on faith, while the Saturn portion serves as a wake up call.
In this respect, today's Jupiter / Saturn reality check may be a blessing in disguise.
The weight of responsibilities you've taken on may seem like a heavy load — too heavy in fact for just one person to carry. The Ten of Wands says it's time to lighten your load. Get rid of what is no longer worth holding onto, and work on salvaging what's left.