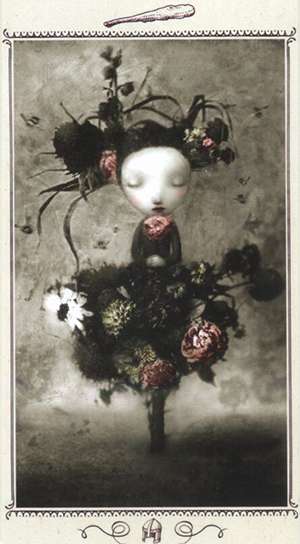 Page of Batons
You shouldn't have any trouble getting into your zone today and adopting a more contemplative or meditative state.
As Mercury moves into Scorpio, you may be turning away from all the noise and distractions in your life and seeking a place of quiet and solitude to explore the deeper regions of your psyche.
You may be thinking of ways to bring depth and clarity back into your life, or like the woman in this card, a way to breathe life into your own creative process.
This is the Ceccoli Tarot's version of the Page of Batons (or Wands). She's expressive and original, even in her introspective state. She's taken a novel approach to self-expression, rising up through the mist that surrounds her to blossom where she stands.
While there's generally a very exuberant quality to the Page of Batons, this version is more intent on maintaining her composure than on any outward displays of emotion. Still there's a certain drama in the way she presents herself, with the flowers blooming and the bees buzzing all around.
If this is someone in your life, know that she's here to teach you a thing or two about creative self-expression.
But she may also represent and event in your life or a set of qualities that you need to embrace — in this case the combination of introspection, self-reflection and understated grace. While the Mercury in Scorpio transit can have you pondering the deeper mysteries of life, the Page of Batons takes it a step further and brings them to life.