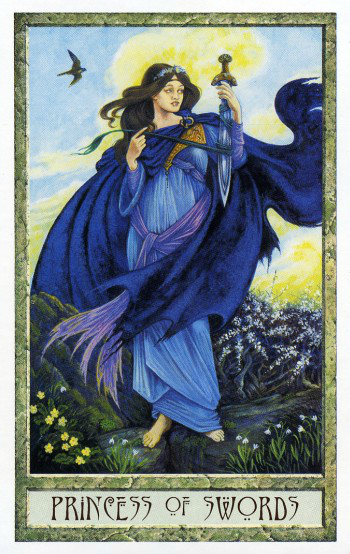 Princess of Swords
Are you waiting to hear from someone today or expecting an important message?
Perhaps you're in the process of negotiating a contract or settlement, and are preparing to sign on the dotted line.
The Princess (or Page) of Swords is a "messenger card." You may hear from an old friend, receive news, or learn the answer to a nagging question — whether it's the answer you were hoping for or not.
As with all the court cards, the Princess of Swords card refer to someone in your life (or coming in) or it can refer to a frame of mind that you need to adopt in order to meet your goals. If this is someone in your life now, you can expect her to cut to the chase, not mince words, and tell you the truth without sugar coating it.
In this version of the card, the Princess stands alert in field of wildflowers. A gentle breeze tousles her hair and cloak. Her sword is held high but blade down, and wrapped in a silken ribbon. A bird flies high in the distance, perhaps delivering a message to a far-off place.
The Princesses in the Druid Craft Tarot deck are the female versions of "Pages" in traditional decks. They're youthful, sensitive, and sincere. They're full of potential, lacking in worldly experience and sophistication and may be overly idealistic and naive.