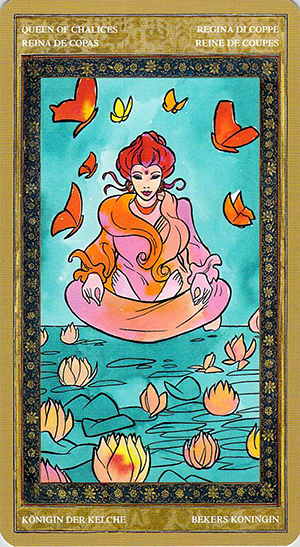 Queen of Chalices
Today would be a good day to step away from all of the noise and distractions going on around you in the outside world and retreat into your inner sanctuary.
With Venus sextiling Jupiter and Mercury trining Pluto today, you should be able to tap into your own sacred space and regroup — even if just for a short while.
The Queen of Chalices — the Yoga Tarot's version of the Queen of Cups — is so good at caring for and nurturing others that she may forget to take the time to pamper herself. But this Queen is here to show you how it's done.
She's seen levitating over a pool of lotus blossoms in a classic meditation pose. She's positioned herself in the most peaceful and relaxing environment possible, with soothing colors and a relaxing array of ambient lighting.
She gazes down into the tranquil waters while butterflies flit gently around her head. Her hands rest gently on her lap in the classic mudra for peace.
The Venus / Jupiter sextile brings the "greater benefics" together in harmony. It serves as a conduit between peace and joy, love and gratitude, grace and beauty.
The Mercury / Pluto trine allows you to tap into the restorative powers of your own psyche. It provides intimate access into the primal energy that flows through you, activating and energizing your chakras. It allows you to awaken the kundalini powers within that rise and nourish your spirit.
Take some time today to create your own sacred space and nurture your own spirit. Like the Queen of Chalices in this card, find a way to create a calm, soothing environment for yourself and "rise above" the noise that can interfere with your ability to alleviate stress. You may have neglected yourself while caring for others. But today is a day of treating yourself, pampering yourself and restoring your own inner peace.