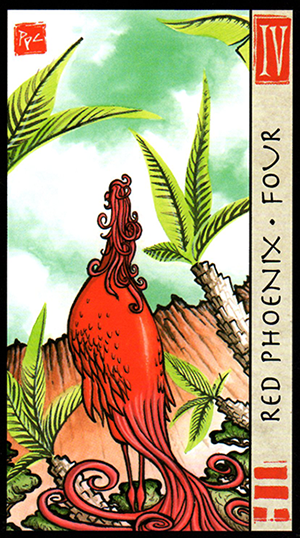 Red Phoenix Four
As the Sun and Neptune come together in an inconjunct formation today, you may be wondering, "is that all there is?"
The Red Phoenix Four — Feng Shui Tarot's version of the Four of Cups — speaks of struggling with feelings of discontent or dissatisfaction. The focus is on what might be lacking or missing in your life, rather than what's right there before you.
The Phoenix in this card is seen standing at the base of a cliff, looking off toward distant horizons. How easy would it be for him to elevate himself — rising above whatever disillusionment he's feeling from his current vantage point — and fly to the other side?
But lack of motivation and lethargy are also hallmark features of the Four of Cups — as they are with the Sun / Neptune inconjunct. There's also generally a lack of energy, which may mean it's going to be a lazy day where you don't feel like doing much of anything.
One of the positive aspects of this card though is that it reveals to you exactly what's "wrong with this picture" and allows you the opportunity to make it right. And the Sun / Neptune aspect can do the same. It can get you thinking about how things could be — in an ideal world or at least with respect to following your dreams — and then what you can do to make those dreams a reality.
While you may start out thinking "what's the point?" you'll have a clearer idea of what's worth salvaging and what could use a little more work in the end. Like the Phoenix in this card, the idea of taking flight and seeing what's on the other side becomes a lot more appealing than allowing yourself to remain stuck where you are and wondering what might have been.