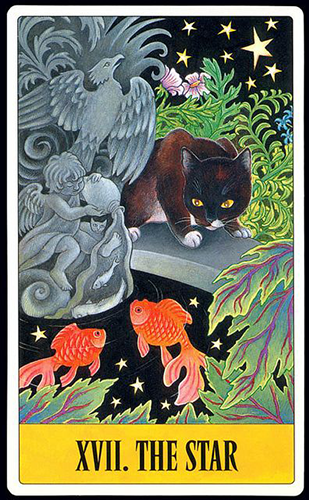 The Star
Today's New Moon is another Super Moon, occurring at 29° Aquarius 59′. This is the Sun and Moon coming together in the last degree and last minute of Aquarius, and by the time it's all over, they've both moved into Pisces.
You can see the symbols for both in this card. There's the water bearer (Aquarius) statue at the base of the fountain, and the two fish (Pisces) swimming through a sea of stars within.
The Star card is related to hope, promise, inspiration and enlightenment, all of which are referenced through the Aquarius / Pisces transition.
For Aquarius it's evolution and humanitarian endeavors. For Pisces it's a spiritual undertaking — it's compassion, understanding and forgiveness.
The Stars in this card are both high in the sky and reflected down below in the fountain's pool. It's a reminder that hope and inspiration are all around us — not just "up there" and not just outside of ourselves.
The cat in this card doesn't look ready to pounce. He looks more inquisitive. Perhaps he knows his presence could startle the fish at any moment, so he hangs back and watches them from a comfortable distance. And they in turn gaze at the statue with a similar curiosity.
This Cat and Fish interplay is repeated in the statute — like a holographic version of what's happening in real time. This is similar to the repetition of the stars — shining high in the night sky and low in the fountain's reflection.
It's a reminder of the "as above so below" axiom that is central to the Star card's theme. The connections that we all have to one another, and how all of our actions impact on humanity at large: this is the message behind the Star card and one we would all do well to heed.