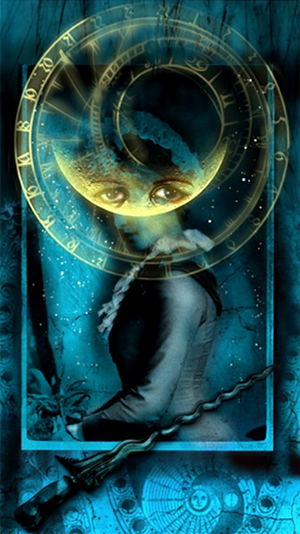 The High Priestess
As the Sun trines Neptune today, you may be feeling more sensitive, more intuitive, and more aligned with the inner-workings of your psyche.
This transit can bring in psychic impressions, such as astral travel, lucid dreams or déjà vu experiences. While that may be a bit unnerving for you at first it can open up doors for you that you never dreamed possible.
The High Priestess is a strong feminine energy — regardless of your gender. It speaks of intuition, perception and wisdom, and all the secrets of the universe unveiled.
In this version of the card we see repeated themes of timelessness and esoterica. There's a photo of a Victorian-era woman laid across a set of ancient sky maps.
A spiraled time-piece — stretching out to infinity — and a crooked wand are also present. But most prominent of all is the High Priestess' all-knowing gaze.
She is both young and old, embodying both innocence and wisdom. She is the keeper of secrets, knowledge and mystery.
You may be getting more in touch with your own intuition, or thinking about delving into the mystery schools — learning tarot, astrology, numerology, etc. Or you may find yourself experiencing profound instances or deja vu or synchronicity.