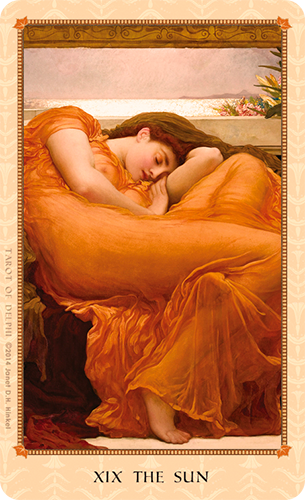 ARIES: The Sun
This month should see you feeling a sense of satisfaction and contentment over recent accomplishments.
The Sun card is traditionally associated with vitality, warmth and a sense of feeling particularly "alive." But in this version the focus is just as much on taking care of yourself and manifesting that vitality through soaking in the Sun's rays and recharging your batteries.
The Sun, Mercury and Venus all move through your 6th house this month — the area associated with work and with self-improvement, which includes your physical and mental well-being. Rest and relaxation is just as essential to that process as are work and productivity.
The "Sun" in this card appears to be setting. It casts its rays onto the ocean in the background, shining across the surface like molten gold.
The image of the woman sleeping comfortably without a worry in the world perfectly captures the essence of the Sun. There's a sense of effortlessness that's associated with this card, even as the world keeps on turning around you.
Your ruler (Mars) moves into Sag this month (on the 13th) and into your 9th house — the area associated with personal growth and expansion. After that point there will be plenty of time to spread your wings and fly.