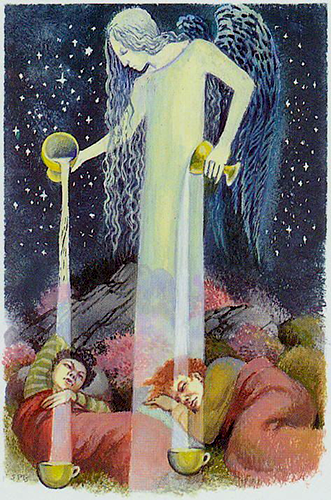 Four of Cups
What are you pouring into your dreams and where does it come from?
Is it from you or a divine source? And does it keep you awake at night or allow you to gently slumber and "see" the answers you seek within your dreams?
There is a suggestion in this card that your life is either half full or half empty and depending on how you perceive your situation or how you tackle your problems that you will arrive at your answer in your own good time and in your own good way.
If there was something you could do to facilitate the process of finding an answer to change your lot in life would you do it?
It's an interesting question considering that one figure in this card is restlessly awake while the other is not and it is the figure who is sleeping who seems to be acquiring the additional help and assistance s/he needs to tackle his dilemma awake with an answer.
The fact that the benefactor, in Angel form, also seems to share this view in that she stands directly above the sleeping figure while her eyes are on the restless soul caught up in the problems that keeps him so awake only goes to prove that there are answers being given to you and it may be that you need to take some "time out" to "hear" the answers.