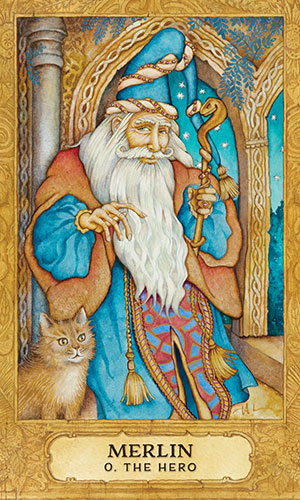 The Hero
Today's card — from the gorgeous Chrysalis Tarot — is this deck's version of traditional tarot's Fool. Here he's portrayed as a Hero, or more specifically the legendary wizard Merlin.
As the first card in the 78-card tarot deck, this card represents the onset of the Fool's journey. And yet this version portrays him as a wizened old man — someone whose life experiences have brought him to great pinnacles of awareness.
But this is a card of transformation and change. It's a reminder of the importance of embracing each new chapter with the idealism and wonder of a child — no matter where you are in your own life's journey.
Notice that Merlin's staff is actually a snake — the archetypal symbol of transformation. And his familiar sits at his site, wide-eyed, alert, and embodying the traditional feline mysteries that have been passed down through the ages.
The light creeping over the horizon and twinkling stars above tell you that a new day is dawning. It's an opportunity — as with every new day — to start fresh.
The Sun sextiles Chiron today, making it possible to conduct yourself with both confidence and humility. There is a gentle, compassionate energy about Chiron that makes progressing toward your goals less about ego and more about experience.
The Hero card encourages you to draw on the wisdom you've gained through your life experiences as you embark on each new chapter. You're given the opportunity to embrace new experiences with the youthful spirit of a child, without losing sight of what you've already learned.