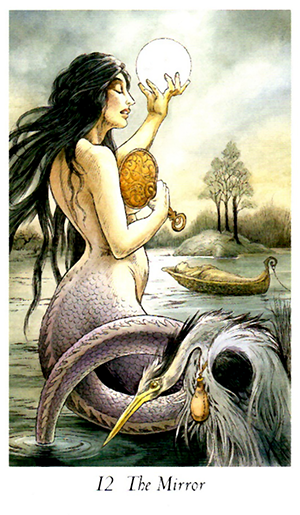 The Mirror
The Mirror is the Wildwood Tarot's version of the Hanged Man. And like the Hanged Man, there are references of surrender, spiritual growth and sacrifice in this card.
But unlike the Hanged Man, the Mirror card is more about internal awareness than it is about external challenges. There's less emphasis on the suspension of time and more on the process of self-discovery.
The central figure in this card is a Siren who has emerged from the depths of the sea. She holds a mirror in one hand and lifts up a glowing orb in the other. In the foreground we see a crane — messenger to the Gods — and in the distance a small island just beyond a burial at sea.
Neptune squares Venus today and trines the Sun. While the square can drive home an uncomfortable realization that things aren't as perfect as they seem, the trine counters that awareness with acceptance and acquiescence.
There are definite surrender aspects to this card. The Mirror itself — held close to the Siren's heart — speaks of looking within, accessing your intuition and embracing all that is reflected back to you. And the orb lifted up towards the heavens speaks of looking outside of yourself for spiritual guidance.
These are both valid endeavors, and both will ultimately move you past some of the obstacles that are hindering your progress.