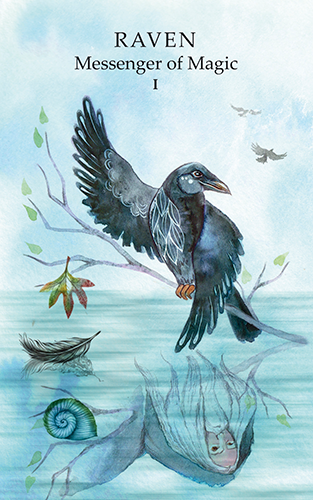 The Raven 
Today's card — the Raven, from the Animal Wisdom Tarot, is this deck's version of the Magician card. Here it's called the Messenger of Magic, a reference to the Magician's ability to harness the magic within to both send and receive important messages.
As Mercury enters Scorpio today, you want to be thinking about ways to tap into the furthest reaches of your psyche and unleash your own power.
You want to be thinking about the hand you've been dealt and what you can do to turn it to your advantage.
The Raven is a power animal associated with arcane knowledge and wisdom. He's capable of bending time and space so that you're exactly at the right place at the right time.
He's a shapeshifter and emissary who acts a harbinger of things to come, carrying messages from the other side.
In this version of the card the Raven is perched on a branch above a shimmering pool, his reflection a wizard peering up from the depths below. He extends one wing in a welcoming wave toward someone or something just out of sight.
Notice the single Raven feather floating on the water's surface and it's inverse reflection, a nautilus shell. These are both also symbols of mystery and magic.