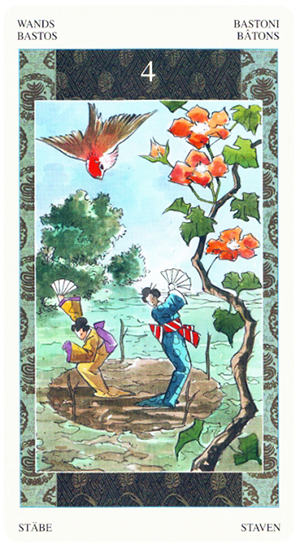 Four of Wands
Today's Venus / Jupiter sextile can bring out the kindness, warmth, graciousness and congeniality in all of us as we move into the final days of the year.
No matter where you are in the world today, you may feel like Spring is in the air, as this transit moves in like a breath of fresh air. This is a gentle, easy-going transit that brings feelings of benevolence and goodwill to the forefront.
Today's card — the Four of Wands from the Samurai Tarot — is all about reflecting on accomplishments and looking forward to where those accomplishments may lead. It speaks of rejoicing and celebrating — whether this means planning for a party or special event, or getting yourself out of the doldrums and washing away the blues.
The Four of Wands takes the "dream big" energy that came with the Three of Wands and turns it into something tangible, solid and lasting. It represents a joyous celebration: a marriage, a promotion, the birth of a child.
It tells you that "this is only the beginning" of something you've already established and that it's going to just keep getting better and better.
You may be planning a special event — one which will be way more fun than you are anticipating. You are likely to meet people, have fun, put your worries aside and focus instead on the promise of friendship, companionship and socializing.
No matter what else you're up against today remember to be grateful for what you have. It's not the time to isolate or withdraw from social opportunities. Look around you and take note of all you've accomplished thus far. Chances are good there's a lot to be grateful for and a cause for celebration right there in front of you.