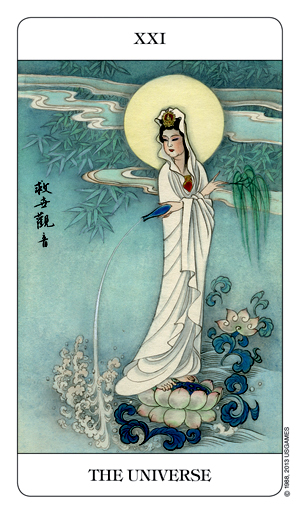 The Universe
Elegantly you stand today thinking of your next step forward.
The time has come to take a total look at your life and what you have been doing with it up until now and seek out new adventures and avenues in which to express yourself.
There is no need to hurry as the image in this card suggests that you already know what you want and how to get it… and it won't be by pushing your way aggressively to your goal.
Rather, it is about laying down the foundations… which you already have… testing them out… which is already done.
Otherwise you wouldn't be standing there in your bare feet trusting your environment and then looking for the "opening" in your life to launch yourself towards something new.
What you choose to do will come to you gently. It is already flowing through you via your thoughts and emotions as can be seen from the stream meandering through the branches.
The green branch held in the right hand suggests you are rewriting and reimagining everything that you wish to make real whilst the blue vial flows from your left hand giving you further incentive to actualise your dreams.