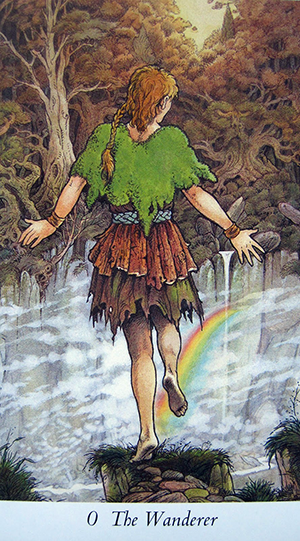 The Wanderer
Venus enters Sagittarius today, bringing with it the potential for a renewed love (Venus) of travel, adventure and personal expansion (Sagittarius).
The Wanderer card (the Fool, in traditional decks) fits in beautifully with this dynamic, as it relates to being open to new experiences without regard for where they may ultimately lead.
Here we see a young woman striding toward the edge of a cliff, barefoot and unburdened by material possessions. Her arms are wide open and her gait is purposeful, even knowing that the path before her is partially obscured by clouds.
There's a waterfall on the other side and a shimmering rainbow bridge leading to it, but if you look closely you can also see the rocky terrain far below.
A fall would be treacherous but somehow you know she's not going to fall. Her faith and her optimism and her willingness to seize the day will see her safely to the other side.
This is the essence of the Wanderer card — and Venus in Sagittarius. It's about taking a leap of faith and being open to going wherever the moment takes you.
At the same time, Neptune turns direct today. This Neptunian energy is reflected here in the clouds that obscure the Wanderer's path. It's also reflected in the concept of surrender (a Neptune key-word) that is a necessary part of taking that leap of faith.
You want to think about these concepts, especially as they apply to opportunities that present themselves to you today. It's not the time to fret about details or focus on what could possibly go wrong.
You do want to keep your wits about you, and unlike the woman in this card you do want to watch your step. But immersing yourself fully in the journey — rather than thinking too hard or focusing too much on the destination — can open up a whole new world of possibilities for you that you won't want to miss.