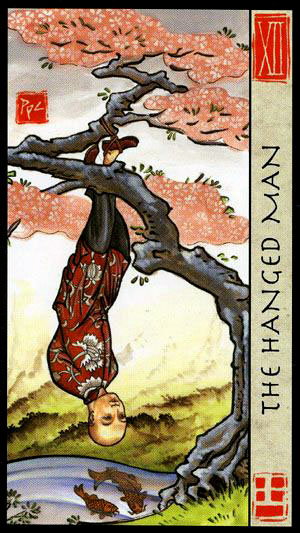 Aries: The Hanged Man
This month, with your ruling planet (Mars) turning retrograde, you may feel like the Universe is forcing you to put certain aspects of your life on hold. Plans you've made may he held up or delayed, or you may feel the need to take a step back and regroup.
This card — the Hanged Man from the Feng Shui Tarot — refers to things slowing down or even coming to a dead halt. It could be due to circumstances beyond your control, or it could be a decision you make when you realize the path you're on is leading you in a direction you don't want to go.
You could be frustrated over something that's taken too long to manifest, or have the sense that nothing is happening despite your best efforts. You may also feel like it's one step forward and two steps back, courtesy of Mars retrograde.
Roadblocks are put in your path — often for your own good. You may have been running at a break-neck pace, never stopping to look at what you've accomplished. Or you may have found yourself losing steam over a project that just hasn't panned out.
Either way, it may be time to step back, take some time to get perspective and put things on hold — at least long enough to evaluate your commitment.
The Hanged Man can refer to delays and sacrifices and when it does, you can bet they're necessary. You'll have to trust that there's a reason, even if it's not readily apparent, and that it will reveal itself to you in time. It indicates a need to back down, even if what you really really want to do is push forward. Your best bet under these circumstances will be to surrender to a higher power, or at least give up the resistance, for now.