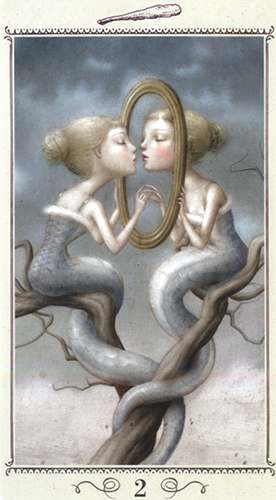 Two of Batons
When you look in the mirror what do you see?
Self love is high on the agenda for you this month and you will take the good with the bad and plain ugly.
Today's Moon / Neptune opposition can act to diffuse the barriers between your conscious and subconscious mind and open you up to more creative and inspirational thinking. But it can also have you seeing things that others cannot see or seeing them in completely different ways.
If you have something that you really need to look at properly without putting rose coloured glasses on to assess the facts, you will get down to the nitty gritty of deciphering that situation without sentimentality clouding your judgement.
If this is about you and how you are seeing yourself, your life and what you are doing with it then you will see that the past can carry you towards the future along with all the knowledge you have accumulated along the way.
Don't be too harsh on yourself. There's no use looking for flaws where they do not exist and it is far better to embrace your "whole" self… flaws and all… fall in love with what you find and take it from there.
Others may find you a bit self reflective but it is a time that you need for yourself to go inside and pull out from the depths of your thoughts what you need to carry you forward.