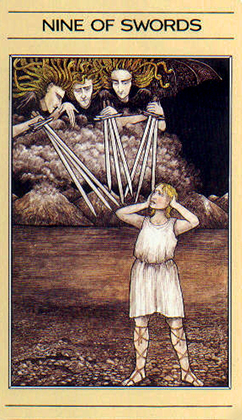 ARIES: Nine of Swords
You may be tossing and turning in your sleep this month; stressing over concerns that seem to have no resolution.
This card speaks of our tendencies to magnify problems, often making them out to be worse than they are.
You'll need to learn to step back from intrusive thoughts and fears before they escalate into full-on panic. This doesn't mean you should ignore your problems: that may be what's gotten you into your predicament in the first place.
You'll have to confront your fears head-on if you're ever going to conquer them. You may have to look at where you've made mountains out of molehills or have been your own worst enemy.
You may have contributed to your problems, as responsibilities that have been avoided could very well be coming back to haunt you now. But it's also important to forgive yourself for past mistakes and work on putting them behind you.