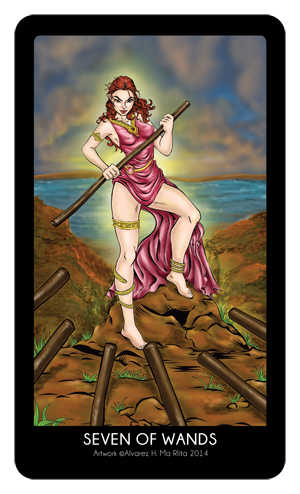 Seven of Wands
You may find yourself with your back against the wall today and feeling the need to defend your thoughts or your actions.
This shouldn't be too much of a problem though as you look confident, strong and well able to head off any opposition that comes your way.
One thing you should watch out for though is that the attack, although it looks to come directly at you, may not necessarily be clear cut.
For instance you cannot see who or what the problem is in this image from the artist Beeme's gorgeous contribution to the 78 Tarot — rather it seems to be several things coming at you at once with the desire to knock you off your feet.
Be wary of anyone around you who seems envious or jealous as they may take an underhanded attempt to knock your confidence and/or undermine you.
I'd like to see them try though as you look so confident and assertive here that anyone who thinks they have a chance of knocking you down may have taken on more than they realised.
There is a lot of self love around you which can be seen in the pink hues in the dress and if you need a speedy retreat you have one already mapped out within the water behind you which I must say is the only fertile piece of nature in this image. Don't be afraid to jump in… you never know what you'll find or where it will lead you.