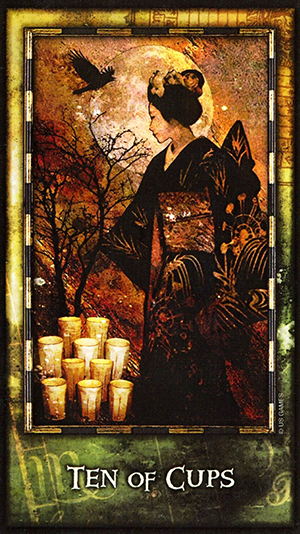 Ten of Cups
Today's Venus / Jupiter conjunction should bring feelings of gratitude and fulfillment to the forefront for you.
This aspect — and today's card, the Ten of Cups from the gorgeous Archeon Tarot — speaks of achieving something worth acknowledging and celebrating, as seen in the imagery of this card.
It represents fulfillment and security; a solid foundation of abundance and prosperity, and the sense that you have built something you can take pride in.
This extends well beyond financial or material security. It's more about family, lasting friendships and a sense of comfort — in your home and your community — surrounded by people you love.
You want to align yourself with a vibration of gratitude as the Ten of Cups speaks of not only getting what you've "asked" for (via the principles of law of attraction) but also being thankful for all that you've received.
It's not the time to think about what is lacking in your life but rather what makes it complete. And while you don't want to be resting on your laurels, it's important to acknowledge those who are most important to you and who keep your cup continuously full.
Take time today to let those nearest and dearest to you know how important they are. While the Ten of Cups is also said to indicate the culmination of something, that doesn't mean you've come to the end of the road. This card is all about embracing all you've established through your connections and interactions with those who matter most — with your family, friends and loved ones.