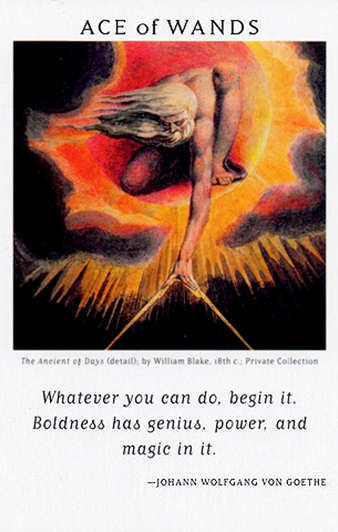 Ace of Wands
Today — as Jupiter moves into Leo — for the first time in over 12 years — you want to be thinking about what you want to accomplish during this next chapter in your life.
The Ace of Wands is card of passion and raw unformed energy. It's the spark of an idea that can be harnessed and then channeled into something tangible and real.
This version of the card pairs the William Blake painting "Ancient of Days," which portrays God as an architect creating the world, with a quote often attributed to Goethe:  "Whatever you can do, begin it. Boldness has genius, power and magic in it."
The Ace of Wands is a card of inspiration: it's that fire that burns inside of each of us that even when it flickers or goes dim, it never completely dies out. It's the spark of imagination, self-expression and passion that permits us to allow our "wildest dreams" to manifest — even if only in our dreams.
You can work with this energy yourself — depending on where this transit falls in your own natal chart. If you don't know and would like to find out, feel free to post your birth date (as well as time if known and place of birth) in the comments section below, and we'll be happy to tell you.