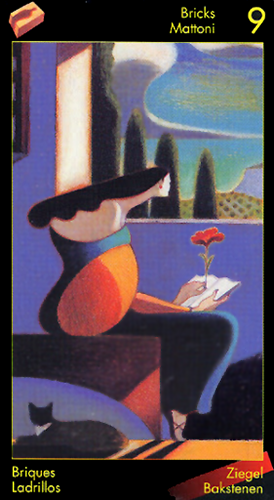 Nine of Bricks
Today is a good day for quiet reflection and contemplation.
You may be seeking out a peaceful refuge as a means of getting away from the distractions that can prevent you from figuring out what you want out of life.
The Nine of Bricks is the Dante Tarot's version of traditional tarot's Nine of Pentacles, which usually refers to not only having what you want but being satisfied with where you are in having attained it.
There is certainly some that same energy here. The woman in this card doesn't look like she's lacking in any way. She has a lovely home with a gorgeous panoramic view and enough time on her hands to be able to spend a leisurely afternoon alone with her book and her familiar.
The woman is this card is said to be "Lady Stone," for whom Dante wrote numerous poems in his youth. She represents a pensive sort of longing and an unrequited love. There's an ivory tower / untouchable aura surrounding her in this card that renders this correlation plausible.
Venus and Jupiter inconjunct Chiron today as they inch closer to their conjunction. The inconjunct aspect can indicate a sacrifice that must be made in order to attain your ideals. Letting go of something you thought you needed — or discovering that your needs no longer correspond with your desires — are both possibilities.
The Nine of Bricks encourages you to look back over all that you've attained and decide whether it's brought you contentment or complacency. You also want to look at whether the plans you've made for your future are still in line with your current worldview. If you've come to a point where you realize that all that you wanted has still not brought you happiness, it may be time to make a change.