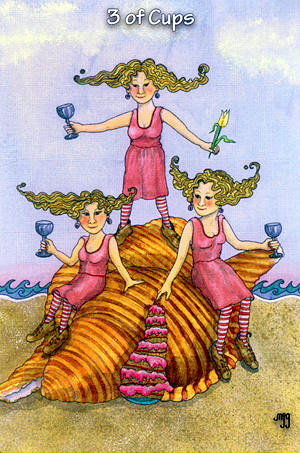 Three of Cups
Today would be a good day to take a break from work and responsibilities to focus on social activities with friends and loved ones.
The Three of Cups represents people gathering together to connect, interact and celebrate. It's a happy, joyful energy that can manifest as a party or celebration, or it could be as simple as a girls night out.
Either way it's a time of merriment and gaiety. Hanging out with like-minded people and expressing feelings of affection and good-will. There's no room for fretting about work, and none of this sitting around ironing out political or ideological differences.
Today's Leo Moon (still very new) fits perfectly with the sense of joy and playfulness seen in this version of the card. The three figures in this card are virtually identical: Whether they're best friends or siblings (triplets!) the sense of sisterhood and camaraderie are emphasized here.
In terms of romance the Three of Cups can refer to reconnecting with an old flame or reuniting with an ex. It can also manifest as a natural progression from the Ace of Cups (an attraction) and the Two of Cups (a mutual attraction) to the Three of Cups (taking that attraction to the next level).