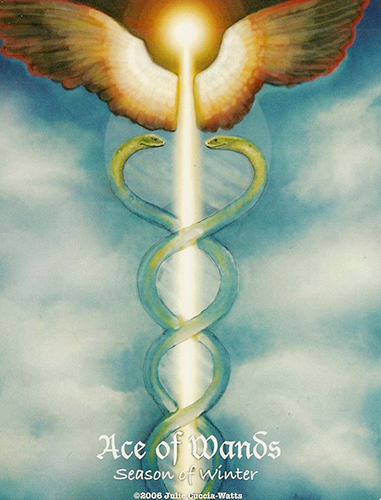 Ace of Wands
Be ready today for a powerful breakthrough. The Ace of Wands — like all Aces — refers to raw unformed energy and potential that can light a fire under you and ignite a new passion.
It's a card of confidence, inspiration and promise than can awaken you to a whole new set of ideals.
tn this version of the card, the "Wand" is formed in the shape of a caduceus with the orb of the Sun emitting a shimmering white light down from the heavens. Twin serpents wind their way up the center in perfect symmetry. A pair of angel wings at the top spread out across the sky.
The caduceus symbol is traditionally linked with commerce, negotiations, eloquence and travel — due to its association with Hermes, the messenger of the gods. It's also tied to alchemy and modern-day medicine and healing.
With respect to this Ace of Wands, the caduceus is representative of the Kundalini spiritual life force. Notice the glowing streams of energy that spiral upward along the column of light.