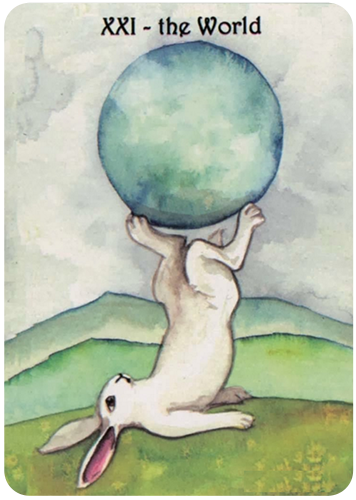 The World
Are you ready to turn over a new leaf? Put the past behind you and turn your life around?
As we come to the end of 2015, you may be thinking about what you want to do differently as you move ahead into the New Year.
The World card — the version from the amazing Rabbit Tarot — is all about coming full circle, closing the door on one chapter in your life and preparing to open another.
It represents a time when you can get a clear overview of what you've accomplished and gain a fresh perspective.
What do have you accomplished this year that has not only worked for you but has worked so well that you want to carry it forward into the new year? And what would you rather leave behind, knowing it either just wasn't working or is no longer conducive to your growth?
These are the questions you want to be asking yourself today — along with "What changes can I make in the new year and what resolutions am I willing to commit to?"
The World card is a card of both fulfillment and completion. With that in mind, it's time to put the finishing touches on projects that are almost finished, and also time to rest anything that just didn't pan out for you. You're preparing to start a whole new journey, and in doing so will want to with as clean a slate as possible.