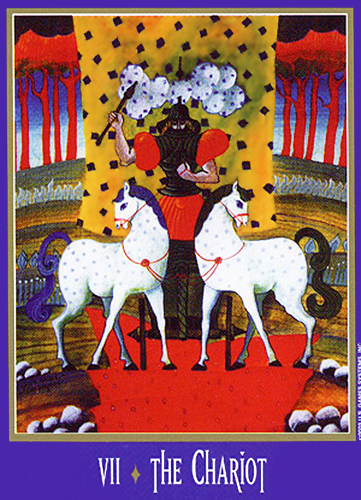 The Chariot
Today's Mars / Pluto square may see you at war with yourself and struggling to gain control over powerful urges and emotions.
This aspect can be both volatile and combative. It pits the planet of anger and impatience (Mars) against the planet associated with intensity and power struggles (Pluto).
This is the New Century Tarot's version of the Chariot card, which is associated with internal conflicts and upheavals that threaten to manifest outwardly.
It speaks of the need to "pull it together" and exert control over your emotions, especially those that can erupt without warning and disturb the equilibrium in your life.
This is a kinder, gentler version of the Chariot, with the stallions standing in one place — rather than rearing up violently or pulling in different directions. They do look off to either side of the card, a reference to this archetype's difficulty staying in sync. The Mars/ Pluto energy is seen in the vibrant colors of the card as well as the Charioteer braced for action and ready to crack his whip.
You may be called upon to both maintain control and harness the opposing forces in your own life today. Whether this is related to relationship, career, or the dual desires within your own psyche, the challenge will be to find a way to pull your energy inward and funnel it outward into one solid direction.
You can accomplish a lot today through sheer force and determination — as long as you're aware of the need to focus your energy in one primary direction. You'll have find a way to balance the diverging energies in your life. But if you can "pull it together" you'll make great strides toward accomplishing your goals.