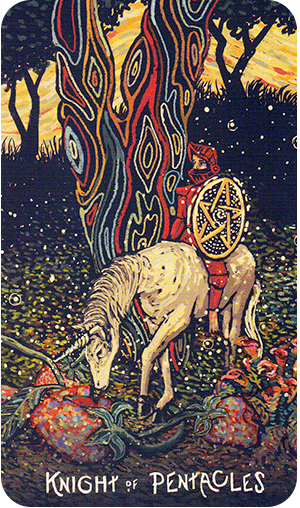 Knight of Pentacles
Today's Venus Jupiter conjunction (with Mars nearby) is still shining brightly in the sky. These planets are all lined up in Virgo now — visible in the early morning hours —  the sign associated with work, duty, discipline and service.
If you're thinking about ways to increase your income or conserve the income you already have, it's a good time to get an early start.
But the Knight of Pentacles is not just about about making money. It's about preserving your resources while maximizing your potential so that you're always at least one step ahead of the game.
This is the essence of the Knight of Pentacles. Taking advantage of opportunities as they present themselves so that you're always working toward your goals. It's that unique combination of instinct and strategy that guarantees your success.
There may be "mysterious forces" at work here too. Notice the Knight's stallion in this card from the beautiful Prisma Visions Tarot. It's not a stallion at all, but a magical unicorn feasting on the giant berries that flourish at its feet. And the tree is etched with colorful esoteric symbols. Call it luck or call it fate, there are indications here that you're able to align yourself with unseen cycles and trends.
Whether you're working on generating more income, saving for the future or paying down debts, you can make a lot of headway toward securing your financial independence. The spirit of adventure is not lost here: it's still a big part of this process. But it's the foresight and efficiency with which you go about achieving your goals that makes them so achievable in the end.