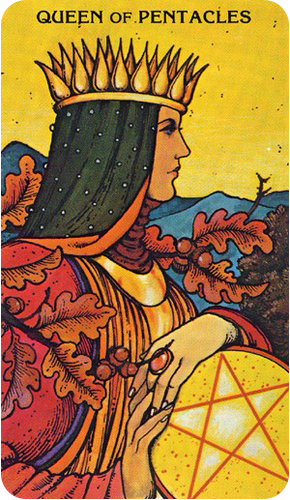 Queen of Pentacles
Today you may be thinking about ways to establish security for yourself and your loved ones. This means financial security first and foremost, but ties into other areas of your life as well.
Building a solid foundation in your relationships for example. Making sure you're where you need to be with your education and professional credentials. Fortifying your relationships with family and friends.
The Queen of Pentacles is all about security and longevity. She appreciates the finer things in life and is not afraid to work for them. But she also wants to see returns on her efforts — material and otherwise.
This Queen is not a pushover. She stands firm in her convictions and does what it takes to achieve her goals. As a strong, solid practical business woman, she's probably weighed all her options before she's made a move.
This could be a person in your life or it could refer to qualities that you need to incorporate into your own personality.
The Queen of Pentacles is practical and efficient. She also tends to move a little more slowly, for two reasons. One, she knows from experience that practical choices are more likely to pay off than get rich schemes in the end.  And Two, she wants to savor the life she's built rather than scrambling to earn her next buck without taking the time to appreciate her gains.