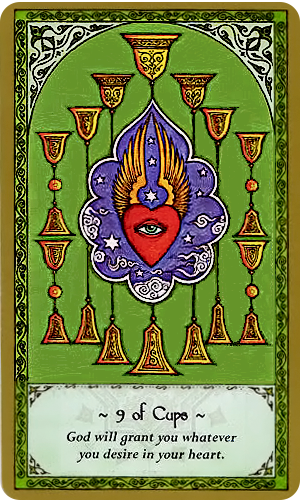 Nine of Cups
Today is a good day to be counting your blessings. The Nine of Cups is called the "Wish Card." It refers to abundance, prosperity, felicity and fulfillment. it's a card of gratitude and wonder; it speaks of being present in the moment and willing to receive all that the Universe has to offer.
The Nine of Cups serves as an important reminder that we all create our own joy. We can get stuck in a mindless rut of worry and anxiety or we can make choices to embrace our good fortune and see our not-so-good fortune as lessons or stepping stones.
This version of the card is rich with esoteric symbolism. The Nine Cups look like golden bells, symbols of the abundance that echoes all around us. A winged-heart with is an all-seeing eye floats in the center against the backdrop of a star-filled sky.
The Rumi quote: "God will grant you whatever you desire in your heart" ties in perfectly with the modern-day Law of Attraction principles. And in the context of this quote, it refers to the personal relationship that each of us have with the Divine.
Nothing is taken for granted here — it's all about putting out there to the Universe what you want and fully expecting to have it delivered. At the same time there's a great appreciation for all that you have and a willingness to share it with others.