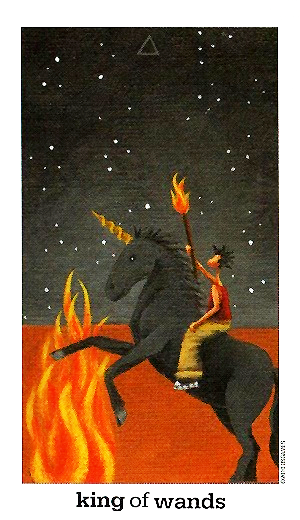 King of Wands
As the Sun moves into Sagittarius and with a Moon / Uranus conjunction in Aries today, you may be thinking about going off on a grand adventure or pursuing higher mind ideals.
You may be thinking about expanding your horizons and taking a leap of faith into the wild unknown. You may be latching onto larger-than-life ideals, like the King of Wands in this card.
This version of the King has nothing but the clothes on his back and his torch to guide him as he and his trusty Unicorn gallop off into the night. The pair of them are fearless: they're not going to let a raging bonfire get in the way of their goals.
You may be excited about a trip you have planned or a destination that's been calling out to you for some time. On a smaller scale you're still likely to be bursting at the seams with big plans and ideas. You may be feeling more bold, confident and enthusiastic about where you are heading and about what your future holds.
The King of Wands may appear as a person in your life. If so, you'll know him by his dynamic presence and his fearless attitudes. He may be a parent, boss, mentor, lover or companion. Whatever form he takes, know that he's here to show you how it's done.
He can also represent a state of mind, as in displaying confidence and problem solving skills that draw people to you and elevate you in their eyes. And he can represent an event, such as a promotion or recognition from your peers.
However he appears for you today, see it as an indication that it's time to step and start exerting your own influence. It may be time for you to pick up your own mighty club and show the rest of the world what you're made of.