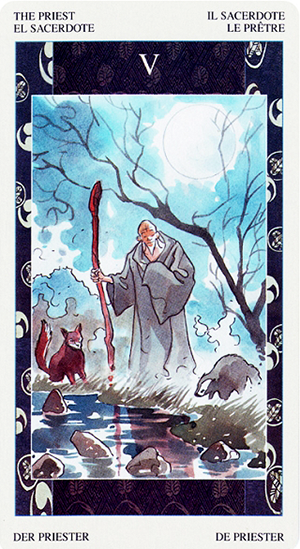 The Priest
Today, as Chiron turns direct — after 5 months in retrograde motion — you may be thinking about all that you've gained through the trials and tribulations in your own life, and how you can pull from those experiences to help others.
You may be coming out of a period of soul searching and  personal reflection, which when filtered through the Chironian impulse to consider the welfare of others, can act as a powerful conduit to heal those who need healing and acceptance — now more than ever.
This is the Samurai Tarot's version of the Hierophant card. It's called the Priest in this deck, and as you can see from the imagery in this card, the focus is as much on helping those who need assistance as it is on spiritual enlightenment. But perhaps the message here is that these are one and the same.
Chiron is called the "wounded healer" — a reference to the ability to bring comfort and guidance to those who need it, even if you're still struggling to heal your own wounds. And as you can see in this version of the card, the Priest must rely on his own walking stick to reach the stream he's guiding the thirsty woodland creatures to.
In this respect they may be healing him as well. We all know how powerful the idea of being useful is, and we all know important it is to feel that we're making a valuable contribution.
The Priest card comes as a reminder that there's always something to learn and always something to teach. There's also always something to give, knowing that what we get back in often far greater in the end. We just need to step outside of our own biases and preconceived notions, and be willing to lend a helping hand.