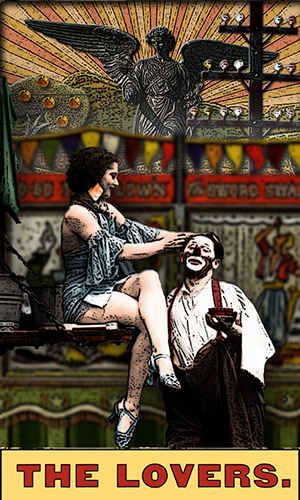 ARIES: The Lovers
Relationships and relationship issues are going to be hands down the biggest area of focus for you this month.
That doesn't mean it's going to be easy. But what it does mean — with Mars (your ruler) moving through your relationship sector and in hard aspect to both Pluto and Uranus — is that it should be "interesting" at the very least.
The Lovers card brings all of your relationship issues to the forefront. The Good, the Bad and the Ugly. It refers to decisions that must be made — sometimes between two lovers, and sometimes between love and something else — as well as all the temptations, fixations and complications that are a part of that elusive and intoxicating mystery we call Love.
If you're dealing with challenges in your own relationship, it may just be a matter of getting out of your own way. You don't want to be creating problems where there are none to begin with. If you're just now discovering that Love is not all it's cracked up to be, join the crowd. You would do well though to put your own needs, expectations and agendas aside.
Check out the figures in this card. Who would have thought the Clown and the Bearded Lady could portray such a fantastic representation of Love? Yet all the pieces are there. The comfort, the closeness, the intimacy — even the whole world fading into the background behind them — are all beautifully rendered here. The angel statue blesses their union from above and who are we to question it?