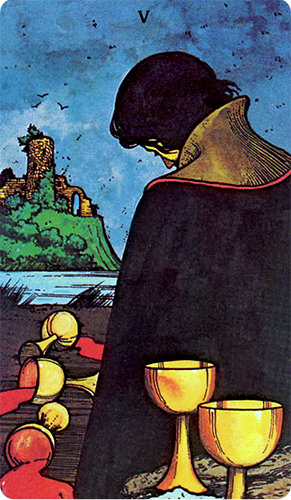 Five of Cups
Venus squares Saturn today and this means tensions whether this be in your love life or life in general it affects you emotionally.
You may wish to look at what you have lost and what you actually perceive as being lost for as this card shows you may be so focused on the fallout of something, the 3 cups overturned, that you are not seeing the potential which is around you, the 2 cups still standing.
If you think you are about to lose something or someone from your life which would then make it more difficult for you to feel as though you were on "firm" ground take heart that things may not necessarily be as bad as you think.
There is a certain amount of grief and grieving in this image hence the black robe.
There is also a bittersweet sense of anger or heated emotions bringing this grief about and from the red liquid running from the 3 fallen cups. It suggests that it would not be a good thing for you to blindly leap in and try to fix the situation immediately as emotions are still running high.
Try turning your thoughts from what is going on. Remember the 2 cups are still standing which means that all is not lost there is still hope but it may require patience and a different state of mind for you to actually see your way clear to what you need to do next.