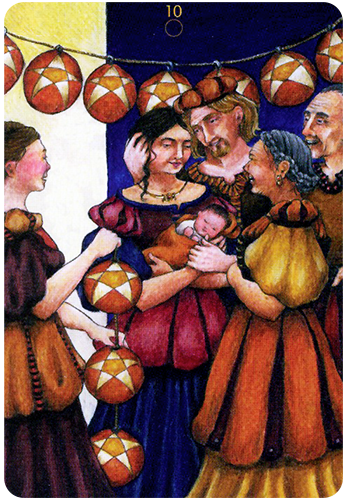 Ten of Pentacles
Today is a day for celebrating all that you have and for joining together with family members and all those in your life who you hold near and dear.
It's a day for seeing abundance all around you. Or like the people in this card — the Ten of Pentacles from the Anna K. Tarot — expressing gratitude for all the blessings in your life, knowing there is plenty for all.
The Ten of Pentacles is a card of riches. If you are thinking to change your job or are in line for a promotion this is a great day to be cementing those thoughts in your own mind and looking at ways you can take yourself forward in your career.
There is a sense of solidarity in this image as if everyone has their place yet all look happy and comfortable within their roles and all is as it should be. No one is left out. No one is giving or receiving more than they are comfortable with.
Relationships take on a sense of balance and stability while communications take on a sense of understanding. This is a great day to be heard, and even small gestures will carry forward and can go a long ways.
The changes may not be apparent for some time but changes will come. If you are not communicating with another person and you are mulling thoughts over in your own mind take note of those thoughts as they have the capacity and greatness to turn into larger plans in the coming weeks. Whilst some thoughts start out small they can grow with such power that they take you far. Be careful what you think today because today is a day of greatness.