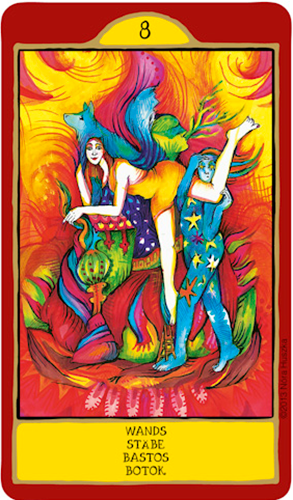 ARIES: Eight of Wands

It may feel like things are moving very quickly for you this month, with your ruler (Mars) in Gemini and in mutual reception with Mercury.
The Eight of Wands — this version from the fabulous Gypsy Palace Tarot — refers to progress, mobility and rapid change, usually for the better. You could be bursting at the seams with new and fresh ideas, juggling interests or overseeing different projects that all seem to be nearing completion at the same time.
This card refers to being decisive, making the most of your time and cutting through whatever distractions stand in your way. There may be a lot going on around you — like the woman in the center of this card — but the Eight of Wands encourages you to remain focused and engaged in the task at hand.
Look at all of the swirling colors in this card. There's a lot happening there — and certainly some distractions. But there's also movement, creativity and energy which are hallmarks of this card.
This is also a networking card. It relates to exchanging ideas and interacting with like-minded people. Blogging, disseminating information, and expanding social horizons are all indicated.