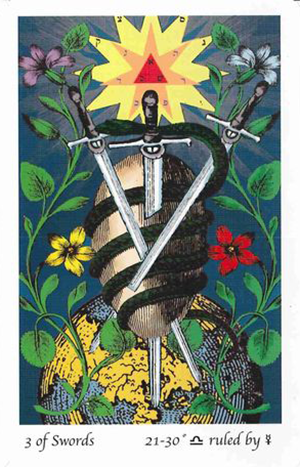 Three of Swords 
While Mercury moves back into Gemini today — the sign it rules — it's also still retrograde. This can be a bit of a double edge-sword (or three of them in the case of this card) as it can increase the disagreements and miscommunications that are associated with Mercury retrograde.
The Three of Swords is often associated with emotional disharmony, heartache and separation. And you could be dealing with the fallout from this very thing today. But keep in mind that disharmony is usually rooted in misunderstanding, or at the very least a misassumption about your role in someone else's life.
Mercury at 29° Gemini is conjunct the fixed star Betelgeuse, which is favorable in general but can also be quite volatile. Betelgeuse is said to have Mercury and Mars undertones, which can contribute to the harsh words and snap decisions that lead to the heartache associated with this card.
In this version of the card there are three Swords lancing a serpent-entwined egg — known as the Orphic or Cosmological Egg. This represents the seed of life — that from which all else springs — as well its infinite potential.
In this respect it can be said that the swords lancing it represent a necessary separation. A need to "cut through" that which is no longer serving you, in the spirit of making room for what does.