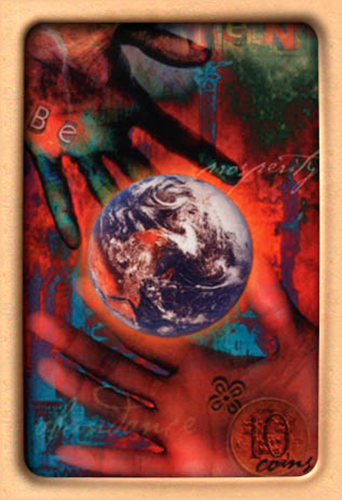 Ten of Coins

Today you may be thinking about planning for your future, especially with respect to your security and financial stability.
The Ten of Coins — this version from the  The Artist's Inner Vision Tarot — is about building your empire, on whatever scale that might be.
It's about achieving success through hard work and determination, as well as the satisfaction that comes with knowing that it's all going to pay off in the end. Not just for you but for family and loved ones, as this card is also about creating a legacy that can be built on for generations to come.
In this version of the card a pair of hands reach out toward the planet earth — representing openness and readiness to partake in all of the riches the Universe has to offer.
The hands are a reminder of the give and take that is such a necessary part of achieving success, as we all know that no one gets their alone. Notice how the earth's energy field / aura glows where the hands touch it.
The words "abundance" and "prosperity" are written on the card, with the word "be" stamped on the palm of one hand and a coin in the other. These are reminders that fulfillment comes from not just monetary gain but also community and global support.
The Ten of Coins is about establishing a lasting legacy for yourself and your loved ones. It's about planning ahead for the future. No matter how successful you are already there's more to be done, especially as it pertains to creating something that will live on long after you're gone.
You could be thinking of starting a family or putting money aside for children you already have. You may be in the process of giving birth to something else — a business, a creative endeavor or a body of work. Whatever it is, know that this is something you want to be proud of, so put the extra energy into making sure you do it right.