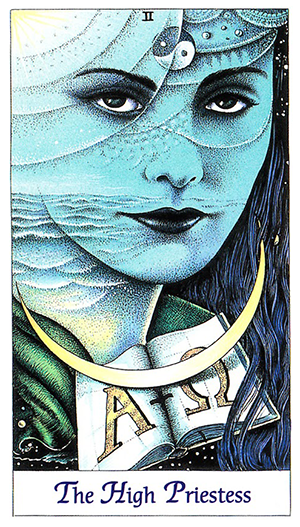 The High Priestess
As Venus moves into Scorpio today, you may feel the urge to turn inward and explore the deeper, darker, more mysterious regions of your psyche.
The High Priestess — this version from the beautiful Cosmic Tarot — represents a call to listen to your intuition and heed your inner voice. It challenges you to look beneath the surface and find hidden nuggets of information that can help you round out the vast reservoirs of knowledge you already possess.
She is the feminine counterpoint to her predecessor, the Magician. Where the Magician is all about accessing mastering your skills and abilities, the High Priestess masters the rich inner world. It seeks to understand what feelings, intuitions and perceptions. What we don't necessarily show to the outer world. What makes us "tick."
She's associated with wisdom and insight, psychic awareness, and a sense of "knowing" even when there is not a factual basis for it.
The High Priestess is at home in the world of arcane knowledge and esoterica. She's both young and old, masculine and feminine, innocent and wise. She is the keeper of secrets, knowledge and mystery.
You may be getting more in touch with your own intuition or experiencing profound instances or deja vu or synchronicity. It's important to embrace these visions and try to understand them, rather than shying away from them. They can bring insights into not only your own personal choices, but the direction you need to be heading in the coming days.