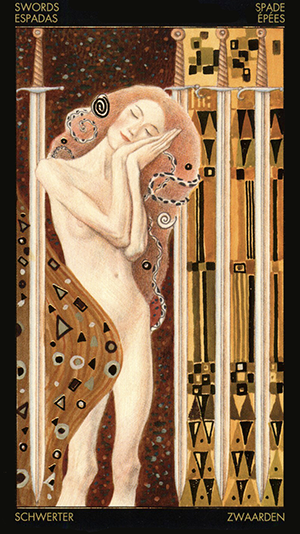 Four of Swords
Today you may feel like you need to take a breather or just focus on getting some much needed peace and quiet.
The Four of Swords — from the Golden Tarot of Klimt — encourages you to disengage from all the commotion that surrounds you find your strength through rest and recovery.
It could be as simple as getting away for a few days to relax and recharge your batteries. And it could be as profound as going on a life-altering pilgrimage or spiritual retreat.
It refers to removing yourself from all of the distractions in your life and reflect rather than "act." It speaks of detaching from the whirlwind of activity around you and choosing to observe rather than participate.
You might also be thinking of getting away from it all. You could be feeling the strains of mundane responsibilities; or maybe you just long to escape from the hustle and bustle of day-to-day life.
Take some time today for yourself and listen to the needs of your body. If you can't get away there are other ways to regain your sanity. Meditation, breathwork, self-imposed silence, etc. — any of these can help you to de-stress and restore your equilibrium.
While you may feel pulled in several different directions today, you'd be best served to stay calm and carry on, rather than let yourself fall out of balance. The Four of Swords reminds you of the need to take care of your inner needs as much as you need to take care of your outer ones.