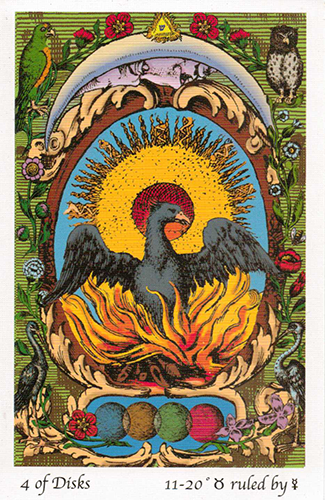 Four of Disks
Today's card — Four of Disks from the Tarot of the Holy Light — is all about holding onto what you have in order to preserve and protect it.
This may be tied to money and possessions (as Pentacles are linked with the Earth archetype and therefore material and mundane concerns), but it also extends to attitudes and belief systems.
In the traditional Rider-Waite style cards a figure is usually seen holding on tightly to four gold coins, symbolizing both the desire to protect what he has and the inability to attain more. In this respect there are elements of hoarding and controlling as well as a bit of a miserly approach.
But here we see an Eagle (the animal totem for Venus) nesting in a bed of flames (Mars). Below her are four orbs (the four elements) insulated in a protective shell.  She has to be able to adapt to her environment in order to protect her fragile eggs.
This scene takes place in its own protective shell, watched over carefully by a crescent moon. The Sun shines in the background and four different birds (representing four states of consciousness) grace the four corners.
This card is ruled the second decanate of Taurus — the Virgo decanate, which is ruled by Mercury and where Mercury currently resides.
This version of the Four of Pentacles is about way more than money and material possessions. It's about preservation, protection and control. It indicates a need to watch over the things (and people and attitudes) you're in charge of without stifling or suffocating them.
Take some time today to loosen up the reins and allow the light to come in. You'll be better served in the long run by trusting that the Universe will support you if you allow yourself to give up some of that control.