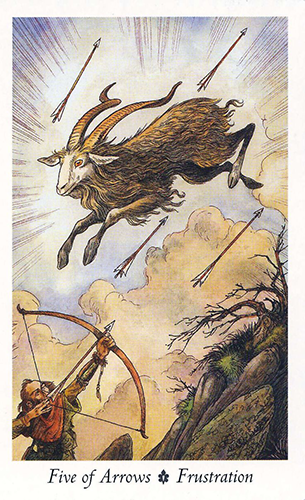 Five of Arrows
Today you may need to work on directing your attention to one (or two) clear goals rather than allowing your energies to scatter.
You may be frustrated with occurrences that catch you off-guard and by your inability to act as quickly as you feel you should.
The Five of Arrows is the Wildwood Tarot's version of the Five of Swords, a card that's often linked with discord and hostility. And there is some of that here, although it's less the "me against the world" mentality that's usually seen in this card, and more about being your own worst enemy.
Are you worried about missing out on an important opportunity, or afraid that when one does present itself you'll end up missing the mark? Or perhaps you're frustrated by your inability to see your target clearly in the first place.
This is the predicament  the figure in this card finds himself in. He knows he needs to act quickly, but it's clear that flinging his arrows in every direction but the one that counts isn't going to land him the prize. He's shot four arrows and all of them missed. Will he get it right with his fifth and final arrow?
The answer depends as much on his willingness to see where his inability to focus has tripped him up in the first place. And this is something you want to keep in mind today too.
You may have to look at where your own impatience and frustration have prevented you from reaching your goals in the past, and then think about how you can do things differently moving forward. You'll get much better results by focusing your energy in one clear direction than you will by flinging it haphazardly into the air.